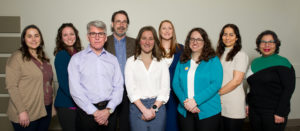 The CES-NCC Board of Directors consists of a Past-President, eleven (11) elected members, including two student members. Board members are elected by the membership, confirmed at the Annual General Meeting and serve a three-year term.
Board 2023-2024
President – Susanna Beaudin
Past President – Emily Brennan
Secretary – Gita Zareikar
Treasurer – Brian Case
VP Annual Learning Event – Mariève Vaillancourt
VP Professional Development – Lulu Li
VP Communications – Sharon Lécuyer
VP Networking – Vacant
VP Equity, Diversity, Inclusion and Sustainability – Victoria E. Díaz
Memberships – Steve McKibbin
Partnerships – Brian Case
Chapter Representative to National – Judy Lifshitz
TBS Representative (Ex-officio) – Kenneth Stephenson
Student Representative –Mahmoud Rahim
Performance and Partnership Exchange (PPX) representative (Ex-officio) – Judy Lifshitz
See work description of directors.
---
CES NCC Board Nominations
Mark your Calendars! The CES-NCC Board of Directors elections will take place online in May 2023. The electronic ballot will be sent out to all CES-NCC members and will include the names of all successful candidates along with their summary of interest and curriculum vitae.
Interested in a rewarding experience? Join the Board of Directors for our National Capital Chapter (NCC). It's an opportunity to make a difference in our local Evaluation Community!